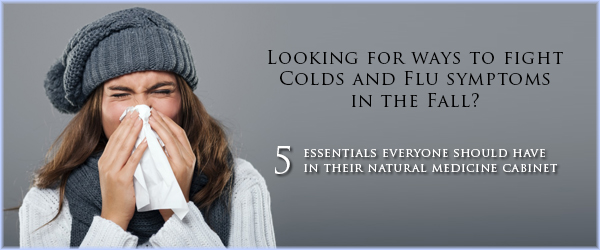 Looking for ways to fight Colds and Flu symptoms in the Fall?
Here are 5 essentials everyone should have in their natural medicine cabinet!
Here are!
It's that time of year where the leaves are changing colour, nights are getting colder and parents and kids are back to school… and we all know what that means: colds and flu season!!
Keep you and your family's immune system boosted and effectively fight those pesky infections with these 5 must haves in the house:
Vitamin C– start taking these antioxidants as soon as September hits! A daily dose of 1000mg for adults and 500mg for kids can go a long way in helping to prevent illness and keep your immune system strong.
Vitamin D3– as many of my patients know, the importance of vitamin D3 is extensive and we stop making it as soon as the cool weather hits. Keeping your levels up is essential for immune health, bone strength and mood during the long winter months. Daily low dose of 2000IU for adults and 1000IU for kids keeps everyone feeling their best!
ND Tip: I highly recommend the liquid forms of vitamin D3: 1 drop is 1000IU and it's tasteless which makes for easy and convenient dosing for both you and your kids!
Probiotics– did you know majority of our immune cells are found in our gut? This is why it is so important to keep our digestive tracks happy and regularly replenish the healthy bacteria probiotics provide. 1 probiotic capsule daily for both adults and kids is enough to keep your gut and immune system strong!
Deep Immune by St Francis – this herbal combination is my go to for many teachers, parents and kids who typically come down with a cold as soon as school starts! Not only does it keep your immune system boosted to prevent opportunistic bacteria but it also helps with our stress response. It comes in a children and adult formula and can be started the last week of summer.
Note: this formula is NOT to be used during colds and flus, it is an immune boosting formula and only for prevention.
Echinacea– this is the best choice DURING colds and flus and is safe and effective for the whole family and even during pregnancy! At the first sign of a sore throat, sinus congestion or cough start fighting it off before it gets worse. There are a number of Echinacea products that come in different forms and doses. Echinaseal by St Francis has herbal liquid formulas for both adults and kids while Mediherb Echinacea is a tablet form for adults.
Finding the right natural treatment for you and your kids based on individual specific needs is what naturopathic doctors do best! If you find you suffer from chronic infections (eg. sinusitis, strep throat or bronchitis) and are constantly taking antibiotics, ask me about the safe, effective and natural solutions that can work for you. In the meantime, keep these 5 essential items handy and part of your regular immune boosting routine to help prevent and fight off Fall infections.